I've had a roll of thin brass in my shop for years that I bought it to use in a pair of Mickey Mouse bookends. (I should revisit that project again sometime.) I recently ran across the remainder of that roll and decided to try something new: patina.
The process is really fun and creative. All there is to it is taking a hunk of brass or copper and exposing it to ammonia fumes. The end effect is an aged, tarnished look.
I attached adhesive lettering to mine.
Then peeled them off after exposing it to the ammonia process: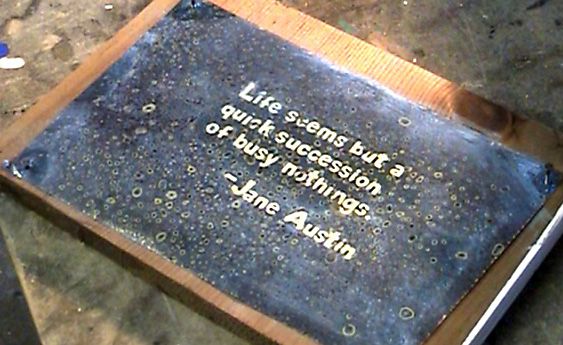 It's a neat effect. I like the random nature of the corrosion, but I think it would look better to use something other than those small letters. Maybe just cut out shapes and paste them on. So while this isn't a woodworking project, I'll bet some of you can figure out wonderful ways to include it in a wood piece. I was thinking maybe as door panels on a pie safe? Let me know if you have ever tried this or have any other methods for creating patinas.