What a fun weekend this has been in the shop. I've been working on the frame to hold Wyatt's autograph. I downloaded a picture of James Hetfield's guitar and set up a layout in Illustrator:
To start with, I've been working on and obsessing over making a miniature version of that guitar that will attach to the frame. What a blast! It's really fun to come up with ways to miniaturize components and try to keep it as accurate as possible. Here's what I've come up with. It's about 12" long: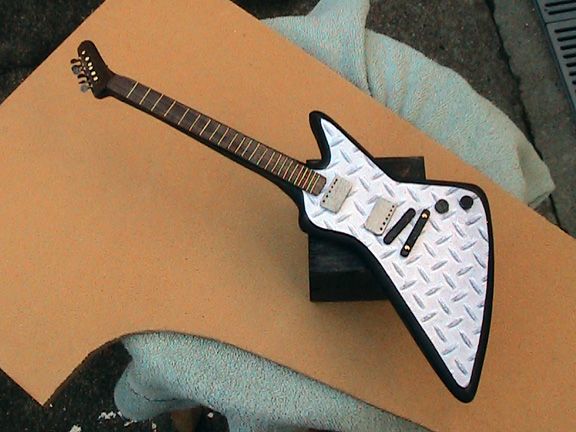 It's cut out of MDF, and I've used a thin laminate of walnut for the neck. The frets are thin brass wire. The diamond plating was a bit of a challenge, but I ended up just downloading a photo and gluing it on.
I haven't figured out how to cut out the Metallica logo on my scrollsaw. Each letter is separate. I want it to stand out from the frame. Let me know if you have a good idea. I suppose, I will just cut it all out in one big blob. I'm afraid that might look goofy, though.