Krzysztof Kleszcz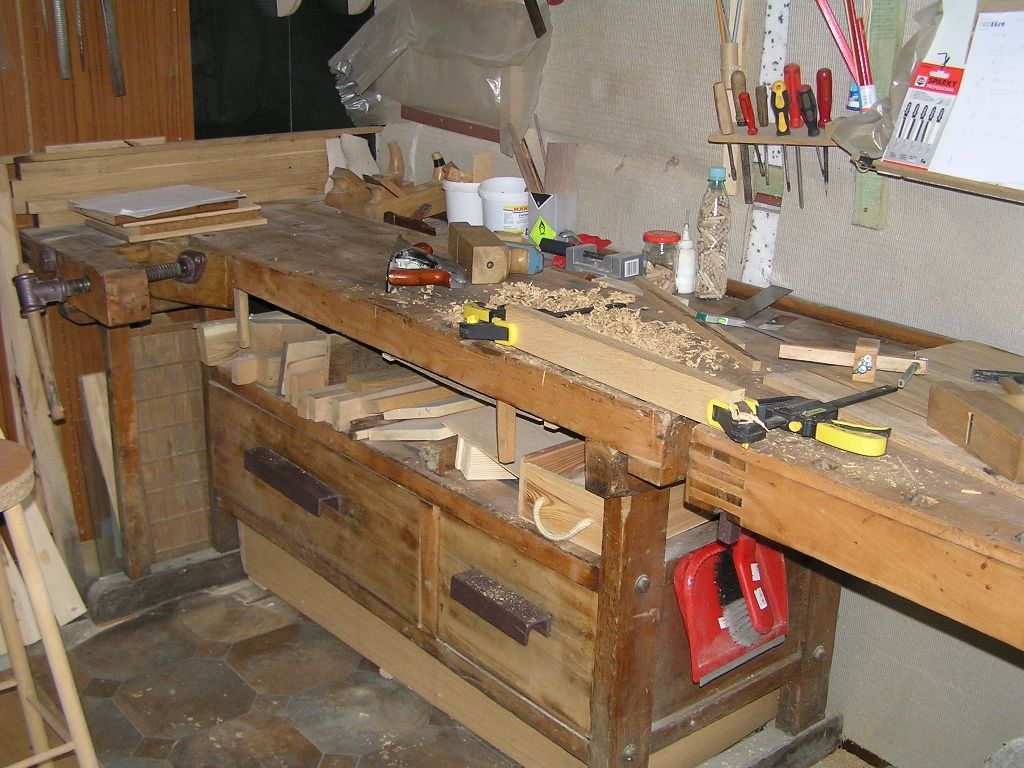 My workbench is quite old - at least 40 years. I got it from my uncle, who used to do some woodworking/carpentry in the past. Since I have this workbench, my woodworking became a lot more efficient and is giving me more fun, because I don't have to worry about good support for my workpiece.
It's made of beech, the length is approx. 240 cm (95 inches) and it's really heavy, the top is about 4 inches thick. It has two vices that are very comfortable. It also has two big drawers and on the back of the top there is place for tools.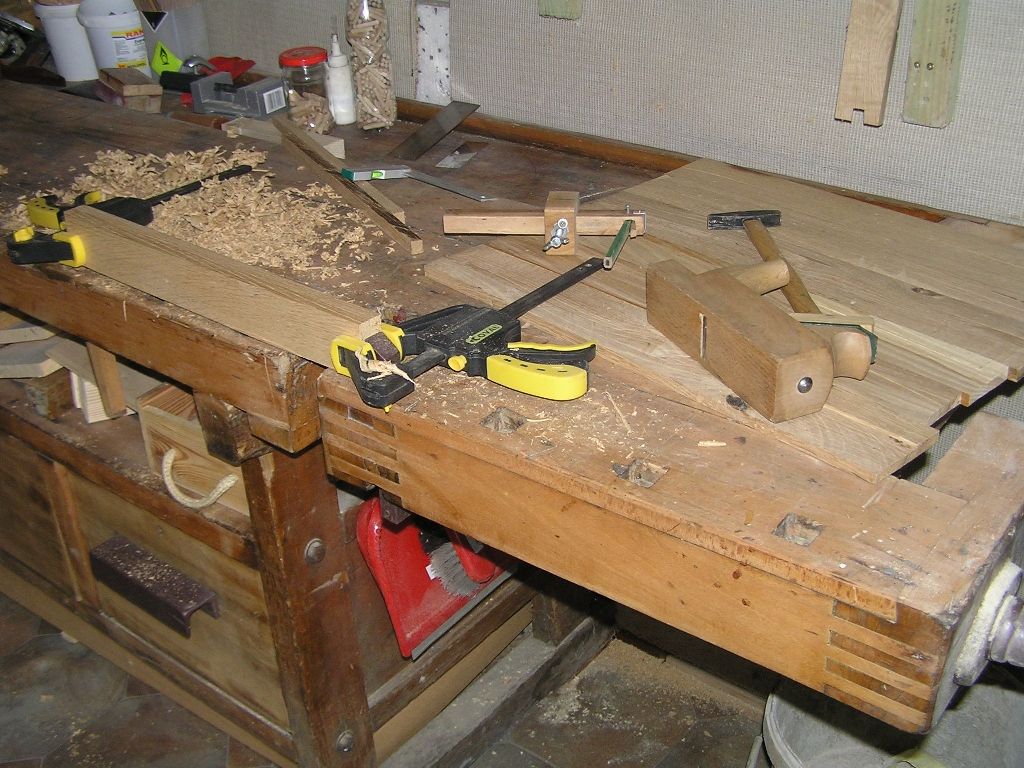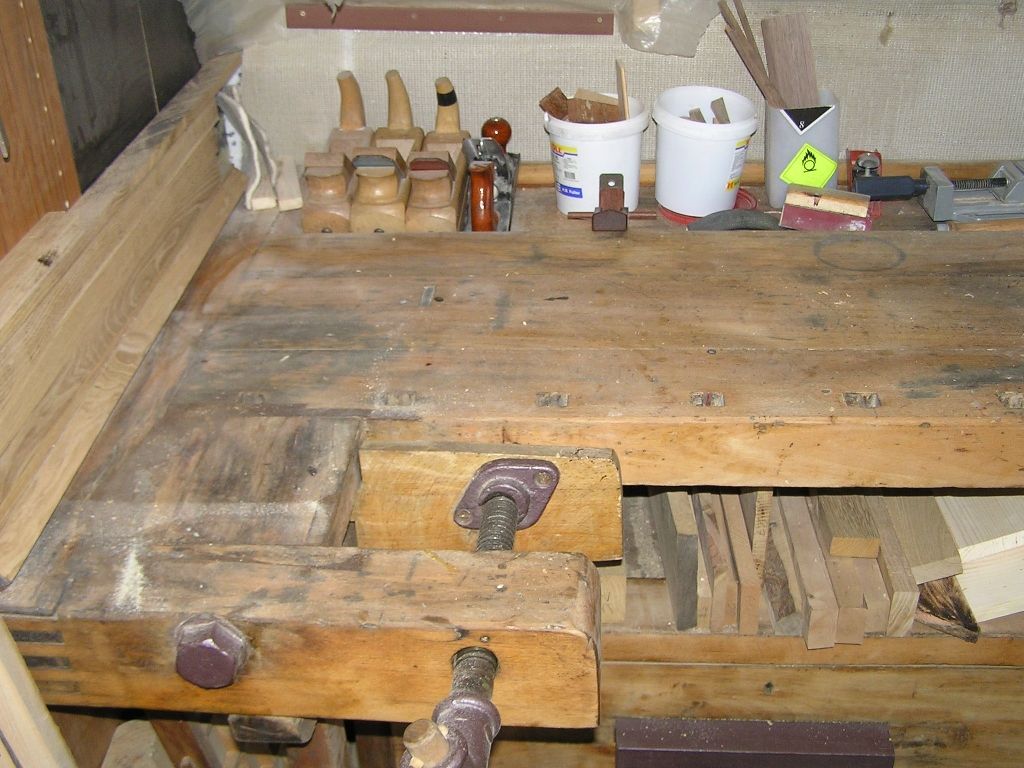 Despite its age, it's still very stable and sturdy. Twice a year I clean the top with random orbit sander and put some oil on it.
*******
Warren Downes
Here is a nice little workbench i made for my Father in law, i used threaded rod to hold it together no glue or nails for the frame, the frame is unbelievably strong you can jump on it (i did) and there is no movement.
The top is 2 layers of 19mm MDF glued and screwed together, i have an overhang on one side to mount a vice on, and holes for bench dogs.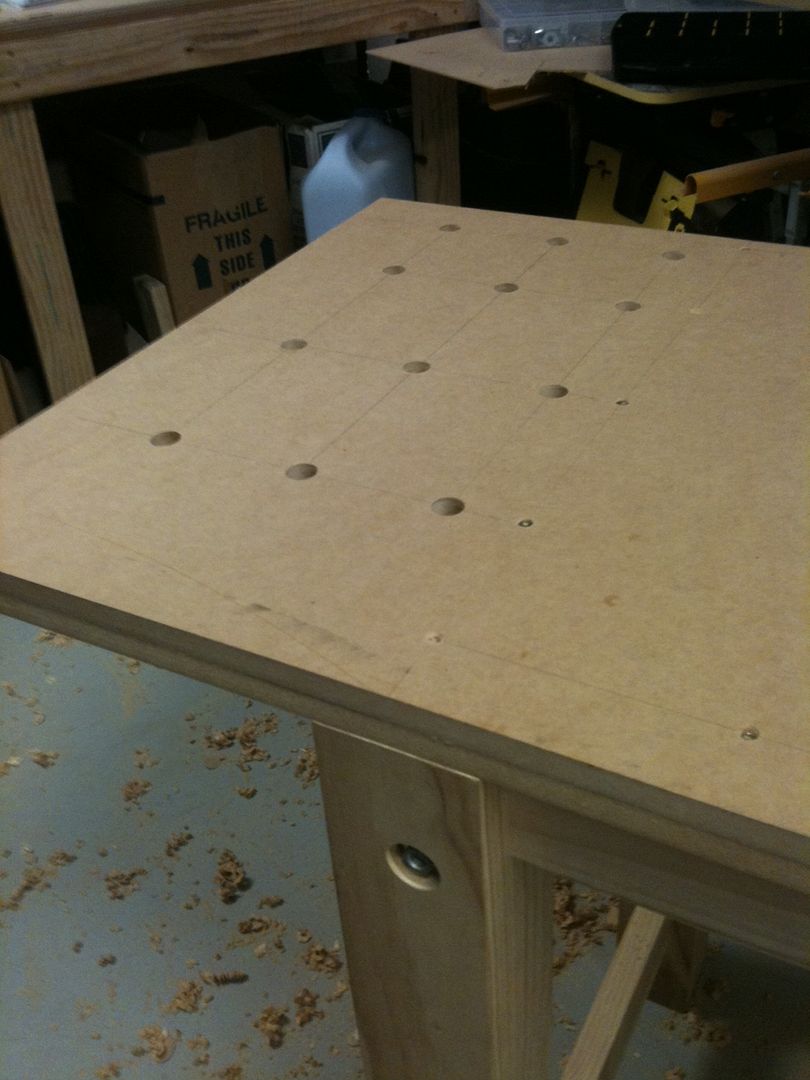 I used a router to make a groove that the rod sits in for the rails and drilled holes with a 35mm forstner bit in the posts about 20mm deep for the washer an bolt and 10mm threaded rod through the post.
I think a drill press is needed as the holes going through the posts need to be a perfect 90 degrees for an exact fit.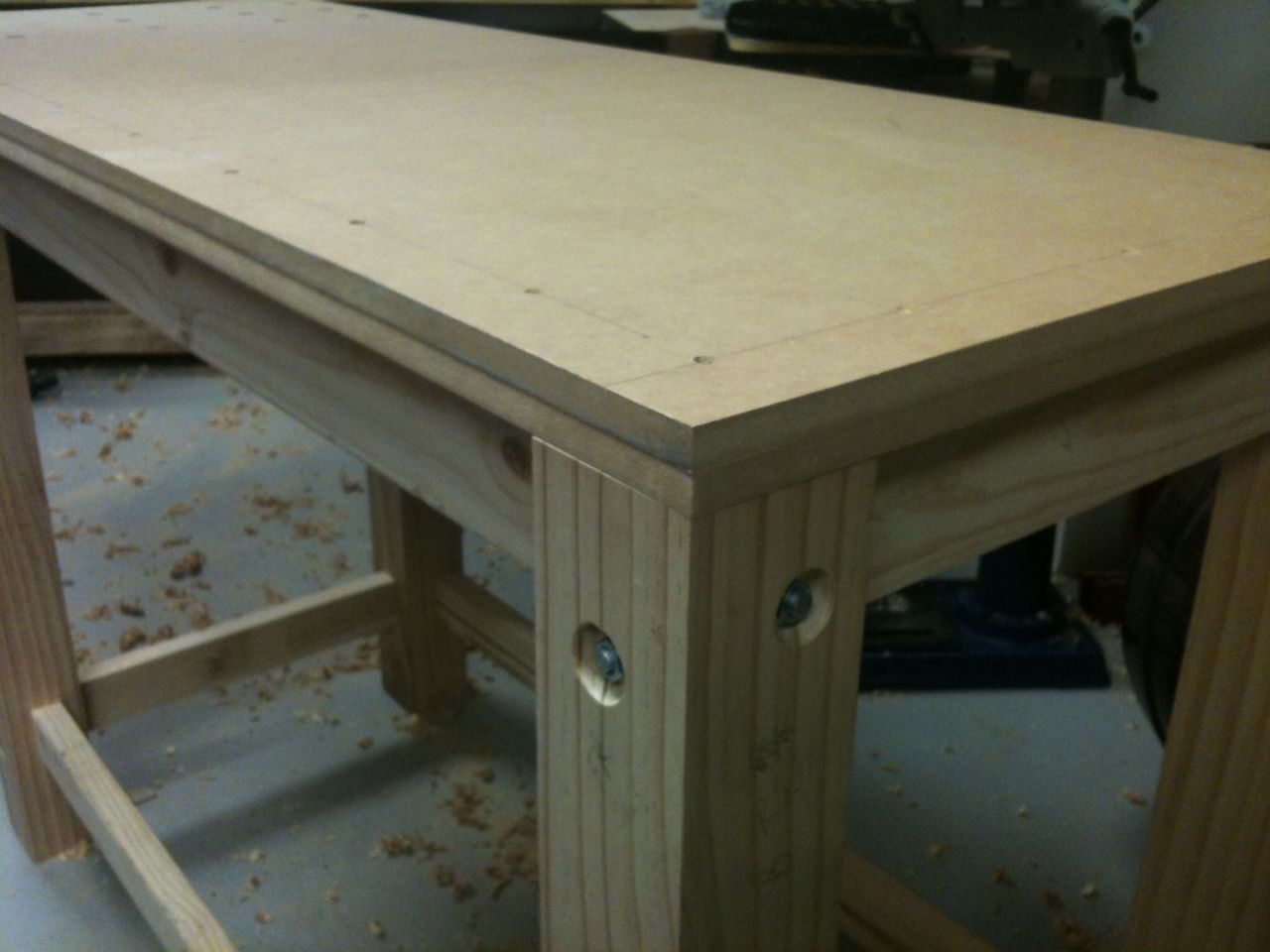 Its around 5ft x 2ft but you could do any size you want, i think its well suited to a smaller movable work bench. Maybe next time some shelves and enclosing the base would be a good idea.
Its simple, cheap to build and really strong
*******
George Fulford
I thought I'd show you the workbench for my meager little shop. It's weather-proof and tough. It is made from heart pine beams, 2x6's and cinder blocks. The beams were from my old house that was torn down due to Hurricane Ivan. They were axe-hewn back in the 20's for an old barn, then salvaged for my old house, now they're my workbench. I love recycling wood :) If only it hadn't rained today when I took these pics. Oh well.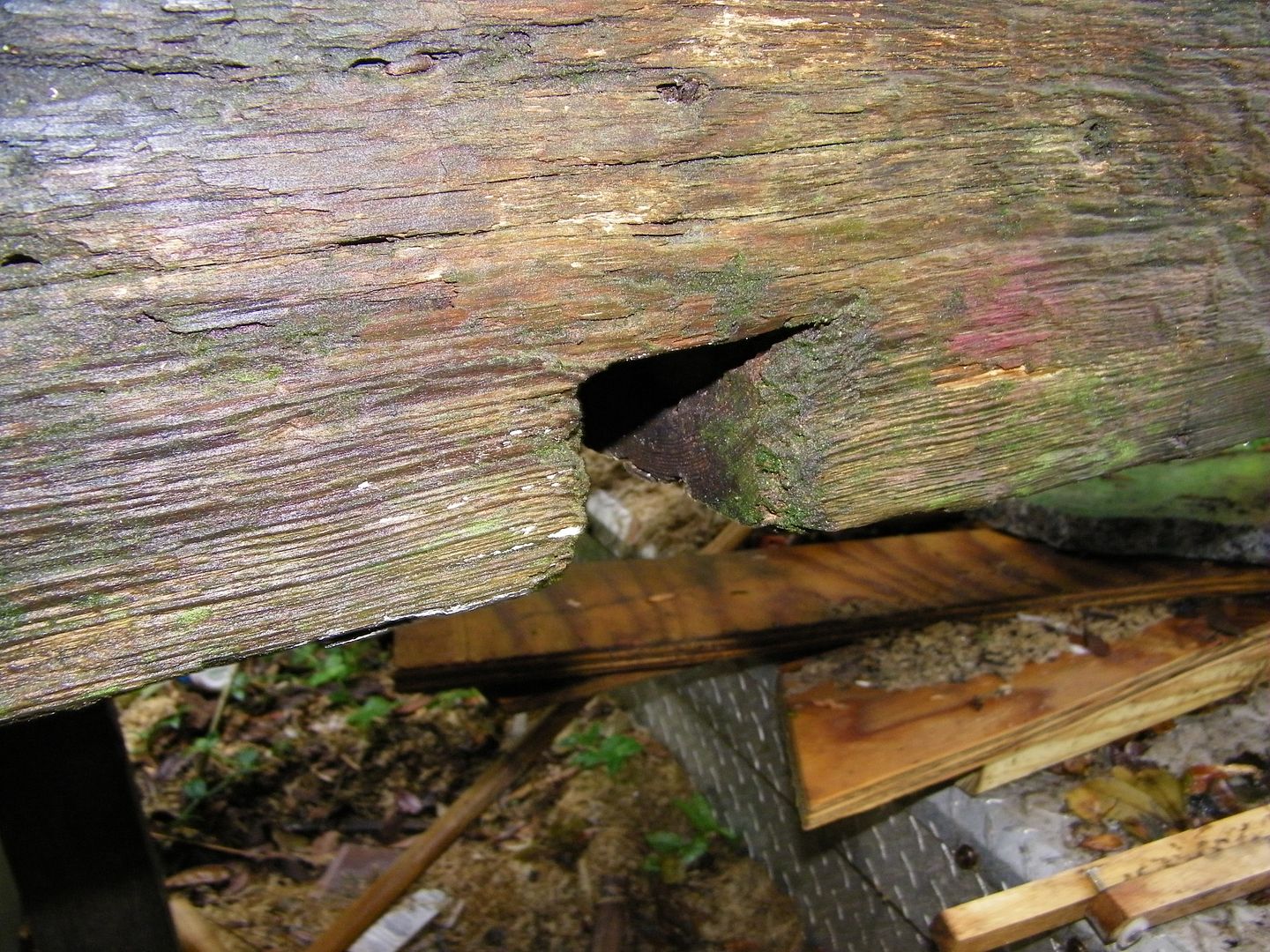 *******
Biff Alexander
Here's my new workbench. Although it won't win a prize for prettiest, it serves it's purpose well. The work surface is 3'5"X9'2" plus a removable trash can at the end to just swipe trash/junk into when a project is done. I still have to put the plywood on the bottom for a shelf, but other than that, it's a 2x4 frame with a 3/4 ply top, and a hardboard/MDF type cover. I only spent $20 building it by mostly using Lowe's clearance wood section, haha. I had a 7' bench when I first started woodworking, but there never seemed to be enough surface, so when I moved into the new shop, I figured I would just use that entire back wall for a workbench, considering I have stands for most of my other tools, and an old shopsmith to save space w/ bandsaw/scrollsaw/jointer/belt sander/disc sander.
*******
Johnny Delgado
My basic workbenches. I made the 3 tables from IKEA parts. Simple but they've lasted and they work.
*******
Andrew Vyn