Bill Akins
Here is my workbench I made a couple of years ago. You can see the bench during construction at: http://lumberjocks.com/Billboard/projects/page/3
It's made from Home Depot 4x4 posts for the legs, 2x6 top covered in MDF and hardboard. 2x6 skirt around it. Lots of bench dog holes. Cost $100 for the bench and $125 later for the 2 vises. Heavy, sturdy flat and does the job. Every few months I scrape the drips on the top, light sand it and apply a couple coats of poly. I added a shelf and a drawer underneath.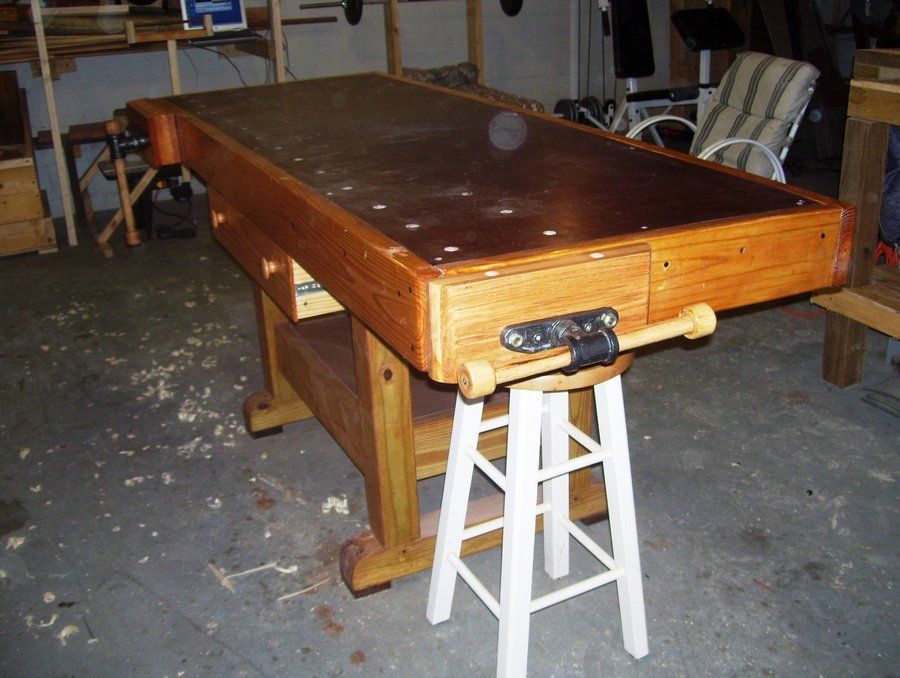 *******
Chris Askwith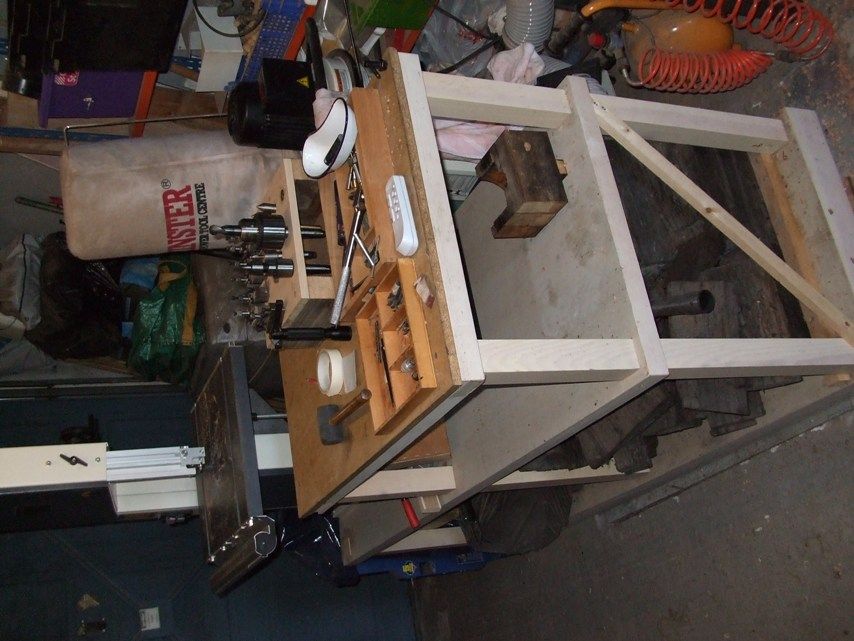 My main workbench is made using a crockery display stand I salvaged from a shop that was closing, I added some extra screws and struts to make it stronger and more sturdy, the height of it nice as I am a taller person and I can stand comfortable at. Originally it was full length across the top but I recently bought a new band saw and the only place to put it at the correct height was to chop off half the top and mount it on the lower shelf.
The main use for this bench as you can see is to keep the tools I need for my lathe close to hand. The rest of the top is almost level with the table of the bandsaw so it provides a handy support when cutting longer stock. The lower shelf is used for storing logs of English bog oak that I use in the production of pipes. The bench serves me well and cost nothing but a few screws and off cuts to "beef" it up.
I have also included pictures of another little work area I made. With space being at a premium the area in front of the door is very valuable, but of course I need to be able to access it easily. So I built this fold down worktop, it is set at the correct height so I can sit at it comfortably and use it for a lot of hand work and fine detail work. It is surprisingly sturdy and sees daily use. Again it was made of scraps and offcuts and cost me only a set of hinges.
*******
Derek McCrone
This is the first project I ever made. I decided I was an adult now and asked my parents for some power tools for Christmas so I could get into wood working. Once I got them I realized I needed a work bench, so I set out to make one!
This is the result. It's just made from 2x4s with a plywood top, but I think it turned out pretty good.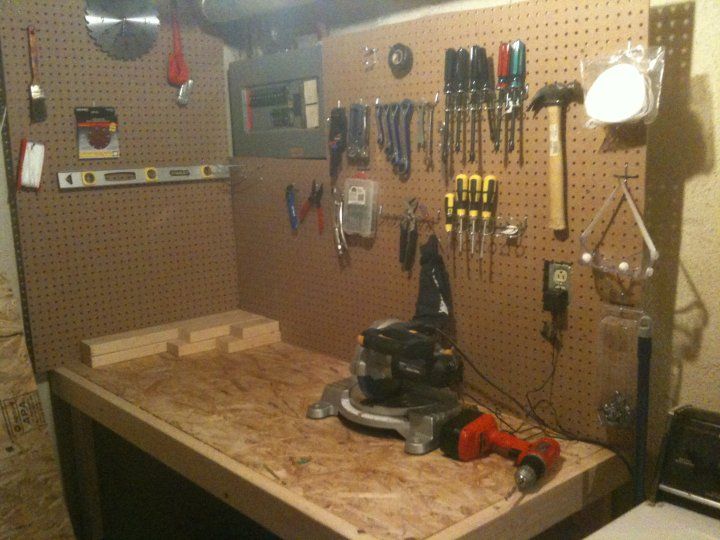 *******
Michael Borg
The wooden crate with the MDF top is my work bench. Just the right size.
*******
Well, Dwayne wins the award for the best makeshift, dual-function bench! Ha!