Some great workbenches are rolling in!
Toshen Golias
Here's my workbench. This is actually v2. For fifteen years I used it as a low workbench, which enabled me to use benchtop tools on it. Over the years I slowly transitioned to floor standing tools and tools with their own dedicated stands, which enabled me to finally convert my workbench to full height, something I had planned for when I first built it (and that my back longed for every time I did extensive sanding!). At the same time, I glued on a fresh maple top.
The top is lined with 3/4" holes, and there a few on the sides as well. Using a combination of the vice, bench dogs, hold downs, surface vices, and a few jigs, I've been able to handle everything I've needed to so far.

It may not be the most beautiful workbench around, but it's heavy and stable, and I love every minute I spend working on it, especially given that maple is a wood I cherish and that stands up well to the abuse I throw at it.
*******
Al Navas
Al has a purchased, European bench. This one's a monster: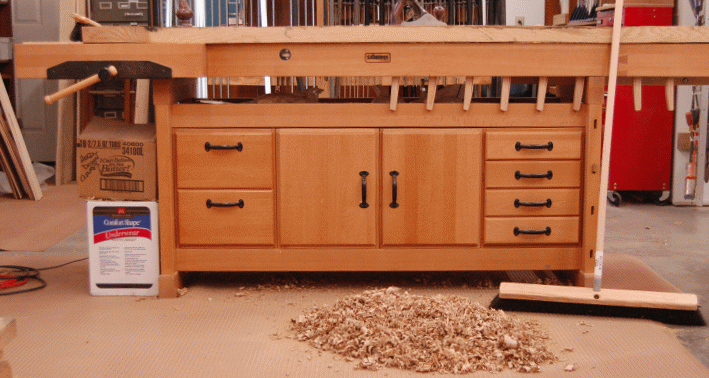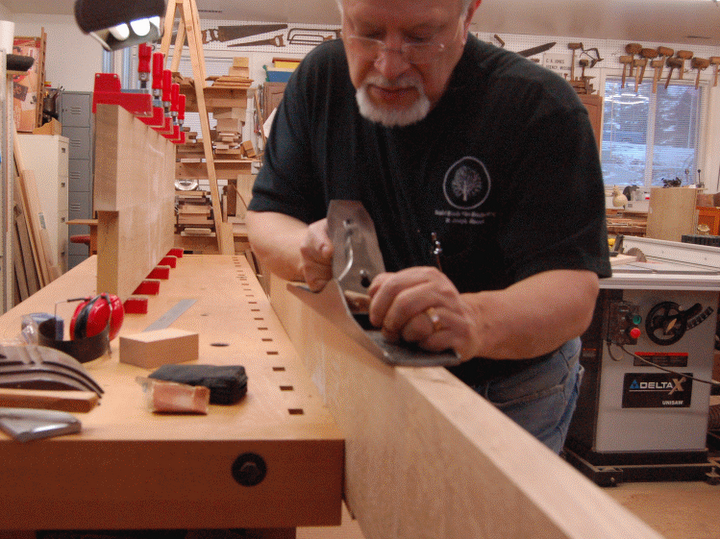 Length: 96 inches
Width: 24 inches
Top: 3-1/2 inches
Apron: 4 inches
Material: European beech
Front and end vise
Currently considering building a Roubo style bench, to complement this one. But room in the shop is running tight...
*******
David Blechertas
Heres my workbench. its not fancy but its solid and heavy and square.
8'x3'x35" and the top is an old office cube counter top thats very thick heavy mdf, it gives me a nice wing for extra space or to clamp on to. all the vertical posts are notched out for a flush fit.
*******
Dawn Sandlin
Hey, this one is almost identical to the construction on my benches!

Here's my workbench. 28" x 6' Base made of 2'x4's The table is three side-by-side 2' x 10' topped with a thin sheet of oak that was in my garage when I bought the house. It has a little, cheapo vise that works for most things.
The workbench isn't the sturdiest so I store my cinder block and another concrete block (under the newspapers) to help. The concrete pieces work as clamps, too. Overall, it is the perfect size for me and my projects. I can drill dog holes into it or drip glue or stain on it without worrying.